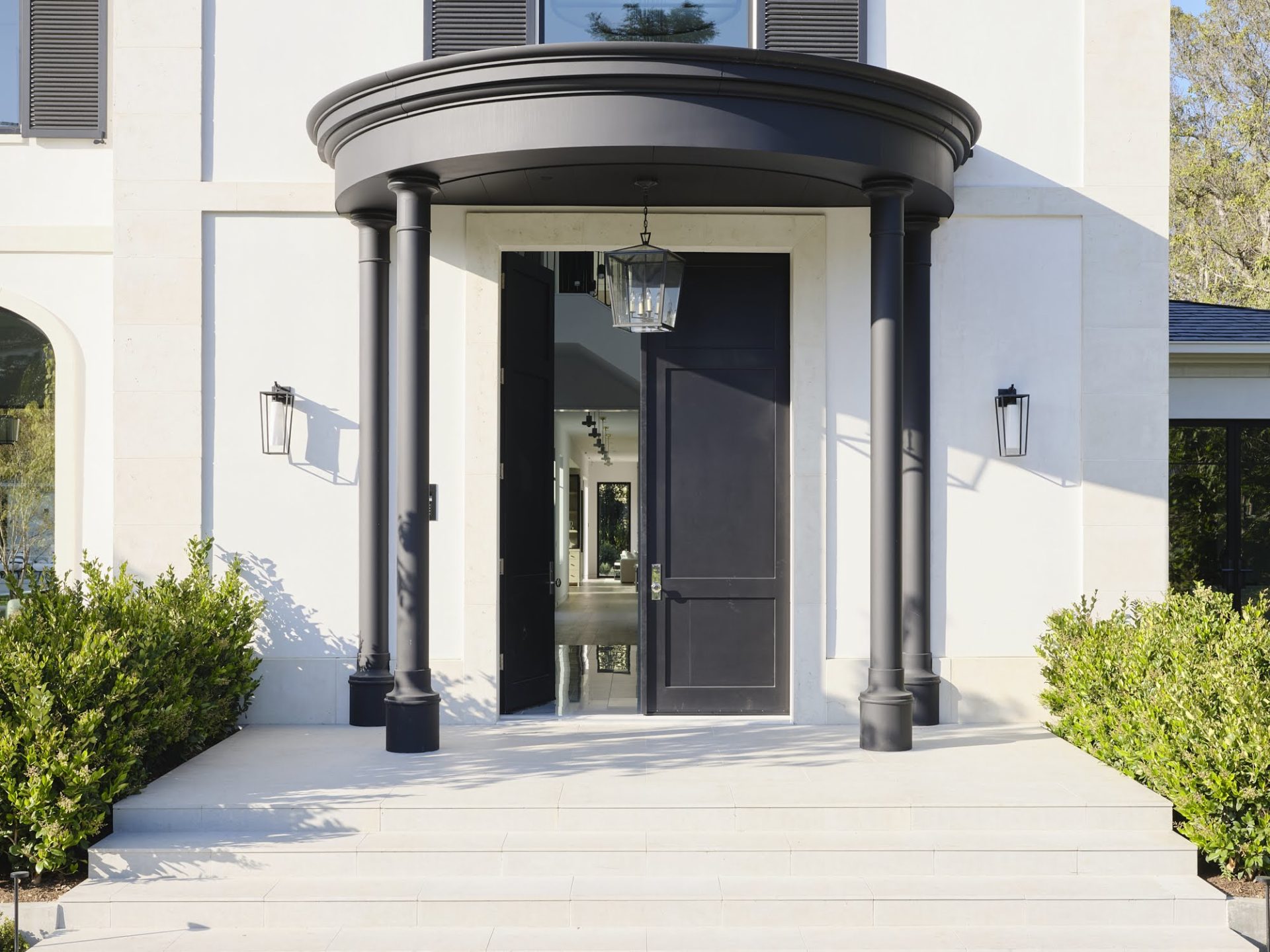 Laurel
A modern take on a 1940s Beverly Hills estate, this property looks to Hollywood Regency style for its dressy, glamorous character. Inside and out, each element is elevated in scale to maximize the allowable height and grand verticality of the rooms. Strongly distilled details reinforce a sense of sculpture, yet avoid ostentation—finding the cleanest geometric forms for statuesque arched windows; a lofty hall running through the central spine of the space; the curved silhouette of a classic winding staircase. The architecture is largely executed in crisp ivory finishes with black accents, highlighting the white tie luxury of the house.

Viewing Beverly Hills through an international lens, the home features debonair and iconic, but not nostalgic, interiors. The rooms are based in cinematic tradition, while also drawing on the minimalist design energy of contemporary Europe. Doors, cabinetry, windows, and columns are monumentally tall, many going straight to the ceiling, with no mouldings. Finishes are uniformly lavish and exceptional, but also intentionally easy, from light, bookmatched marble and bleached walnut in the kitchen, to the striking dark marble enveloping the master bath. An understated neutral-and-black palette and plush, biomorphic furniture bring crisp, sculpted comfort to the large spaces.

A special pool is central to the iconography of a classic Hollywood home. For this Beverly Hills residence, a stepped, Deco-style pool is designed to enhance a flat yard, reinforcing its orthogonal scale and mirroring the long covered terraces along the wings of the house. The interiors open dramatically to the yard through wide columned portals, with one terrace centered on the living space and another on the kitchen, aligning with the pool. A broad deck stretches the length of the property to the pool house at the back of the lawn. Interconnected zones for sunning and lounging are located around a beautiful old magnolia tree that is original to the property—a gentle shape to balance all the surrounding geometry.