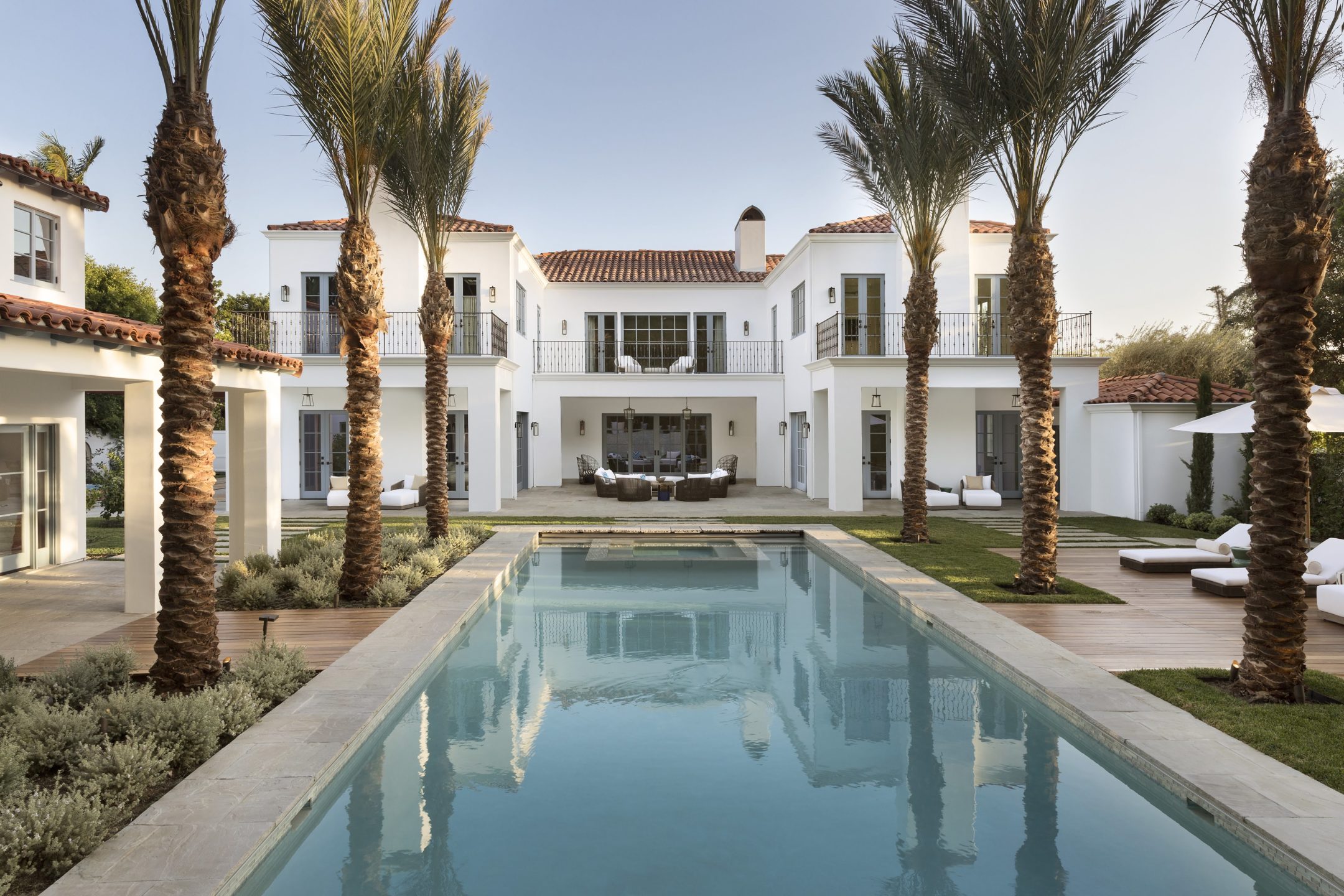 Casa Giannini
A stately but rundown 1920s Italianate home was a prime example of Old Hollywood glamour in a landmark neighborhood. The poor condition of the house led to a full rebuilding and subsequent reconfiguration of the entire complex. A new front entrance was relocated on the quieter side street for privacy, while the original front façade was lifted off the building and moved to the other side of the home. The new architecture echoes the earlier romanticism, but in a clean, pared-down manner that opens up into a light-filled formal interior. Though it is completely remade, the vintage aura suggests a treasured estate house that's been updated, its history revived.

Carrying through from the rebuilt exterior, the new interiors capture a 1920s Deco modernism that would have been consistent with the original period of the house. Formal checkerboard marble floors and a grand entry with a double staircase conjure a magical past. Unadorned arches, coves, and vaulted ceilings soften the rooms, allowing the architecture to be a source of sculpture. The furnishings signal the present day, in a polished, comfortable, feminine style with an air of elegant wit. Neutral backgrounds come into focus with unexpected strokes of color in a collection of luxe materials—jewel-like brasswork; emerald velvet and pink onyx; a master bathroom lavishly clad in graphic, striated Italian marble.

Like the main house, the original 1923 pool house was lifted and moved during the reconstruction, to better rehabilitate a complete outdoor space. Transferring the structure to the other side of the yard opened up room to enlarge the existing pool and align a water view on the central axis of the house. A parallel patio is inlaid with a long, yacht-like ipe wood deck. Tall rows of palm trees were imported from Palm Springs, adding to the mood of a glamorous pool at a vintage California resort. The setting is equally dramatic at night, with uplights at the base of the trees shimmering in the water.