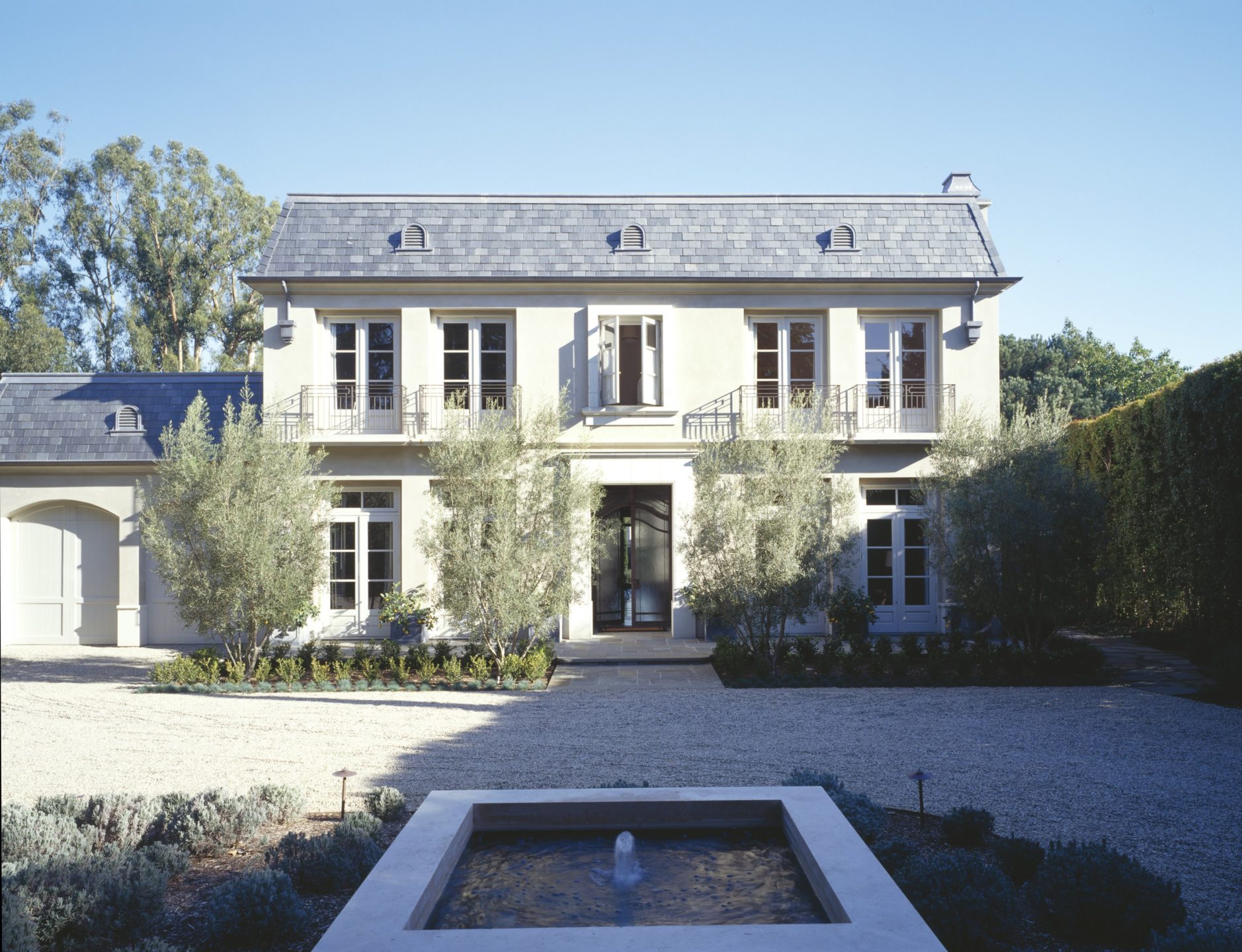 Bristol Circle
A gracious Gallic home takes the imagined form of a simple chateau—one that might have been built just outside of Paris at the end of the 19th century, and then renovated in a more streamlined style during the 1930s. The facades share this balance of eras, opening to the street with willowy, Belle Epoque French proportions and stately roof lines, and unfolding to the rear in terraced, park-like grounds. In a classical plan, tall French doors and windows look onto heirloom spaces made with lacquered wood paneling, sculpted mouldings, and chevron-patterned oak floors. Yet, the detailing throughout is edited, invoking the racy, simplified forms of Art Deco.

A modernist ethos of 'less is more' animates rooms that have an older century character. A cool, luminous monochrome palette in finishes and furniture is in fact made of multiple pale shades of grey, oyster, celadon, and parchment, with soft gilding and mercury glass lending a Parisian sophistication. From collected antiques to custom pieces, the furnishings emphasize singularity and special details over extravagance. Antique hardware, light fixtures, and other fanciful gestures add authenticity, including carved marblework and a hidden door to the master bath cut out of the bedroom's paneled wall.

The aim for the landscape was to create a softer setting that would suggest the south of France more than Paris or California. A classically French gravel entrance court sets the tone from the street, including a limestone tank-style fountain set within a lavender field. Olive trees are planted to give the house scale and privacy from the driveway. In the back, cypress and sycamore trees add to the Mediterranean ambiance. A recessed lower quadrant of the grounds is host to an elliptical, fountain-like swimming pool, reinforcing the transportive sense of a vintage garden away from the house.