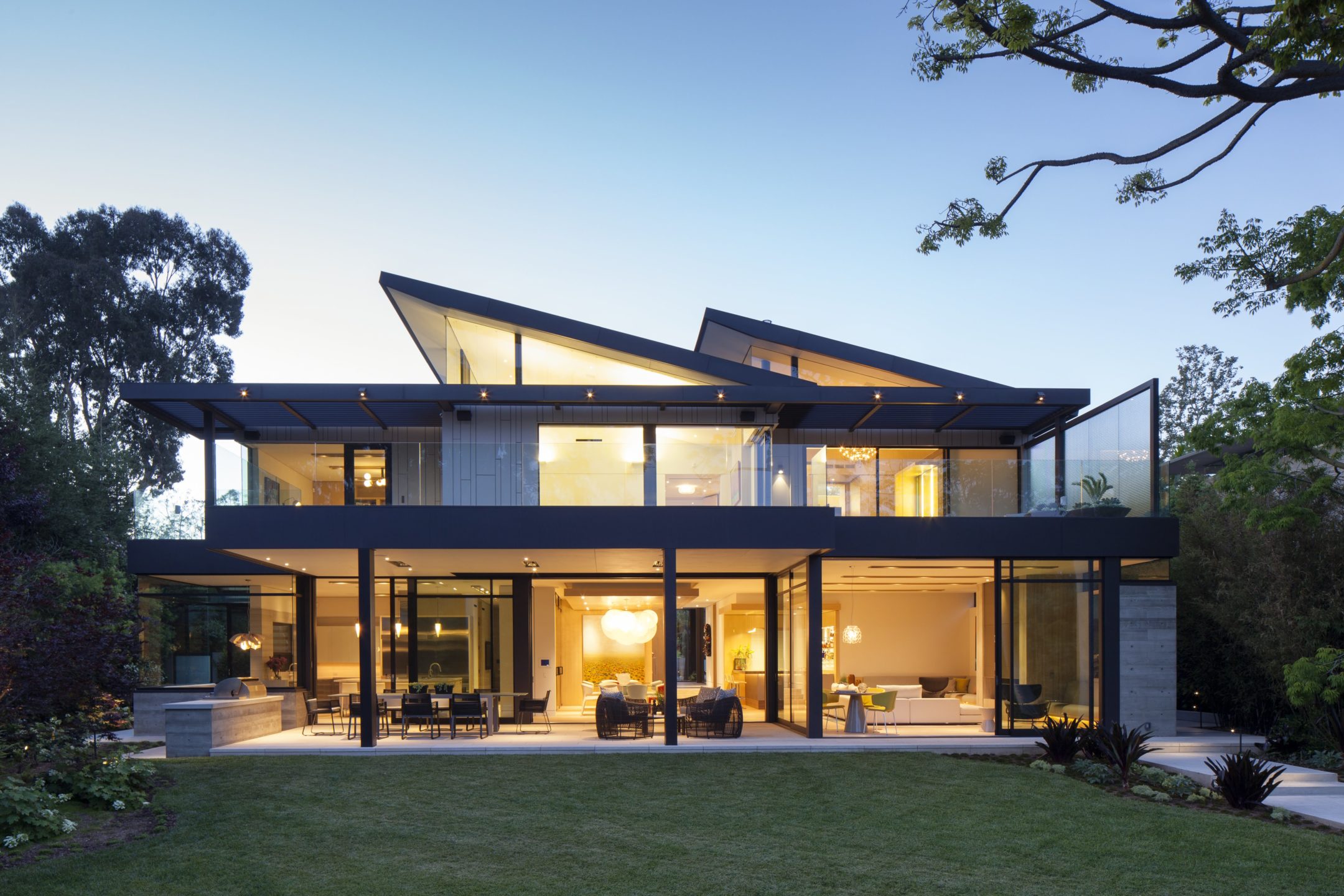 Flight
Personal passions influence a modern house made for a couple simplifying from a large family home. Gourmet cooking and wine collecting guide key zones in the open plan of a bright, glass-walled living space. A separate skylit studio is a retreat for the wife, an artist. An early twist in local zoning laws inspired the conception of the house as a series of sculptures. Floating planes of metal roofing were developed to satisfy a requirement for pitched rooflines, simulating wings in flight as they ascend above the glass-encased rooms. The folding, organic geometry of the architecture then lent itself to the studio, imagined as a boulder in a Japanese rock garden, occupying the front courtyard of the house.

The main living space is defined by a loft-like multi-purpose great room. A floor-to-ceiling glassed-in wine room becomes an art installation, while also acting as a partition to the active kitchen. Sliding glass doors open the back of the space fully to the yard. An inset, covered dining area becomes part of the great room, with modern, comfortable furnishings that are equal inside to outside. Likewise on the second story, wide glass-walled terraces open up the rooms with great transparency to outdoor living spaces. Finishes throughout are practical, neutral, and very durable. Bleached oak, marble, and glass make room for more dramatic sculptural gestures, in the honeycomb walls of a powder room and the backlit, vertical stained oak planking in the stairwell.

A primary puzzle for the house was understanding where to locate the art studio. Once a decision was made to place it in the courtyard at the front of the house, the landscape came to life, inspired by the Ryōan-ji rock garden in Kyoto. The studio itself becomes a monolith among boulders and subtly patterned stones, all providing tranquil views to the glass entry hall. A Japanese maple lends meditative color; other plantings around the house echo the quiet, Japanese botanical viewpoint. Placing the studio in the courtyard allowed the backyard to accommodate a swimming pool. The pool has a reverse infinity edge that provides a delicate waterfall effect and a tranquil sound to the outdoor living areas.