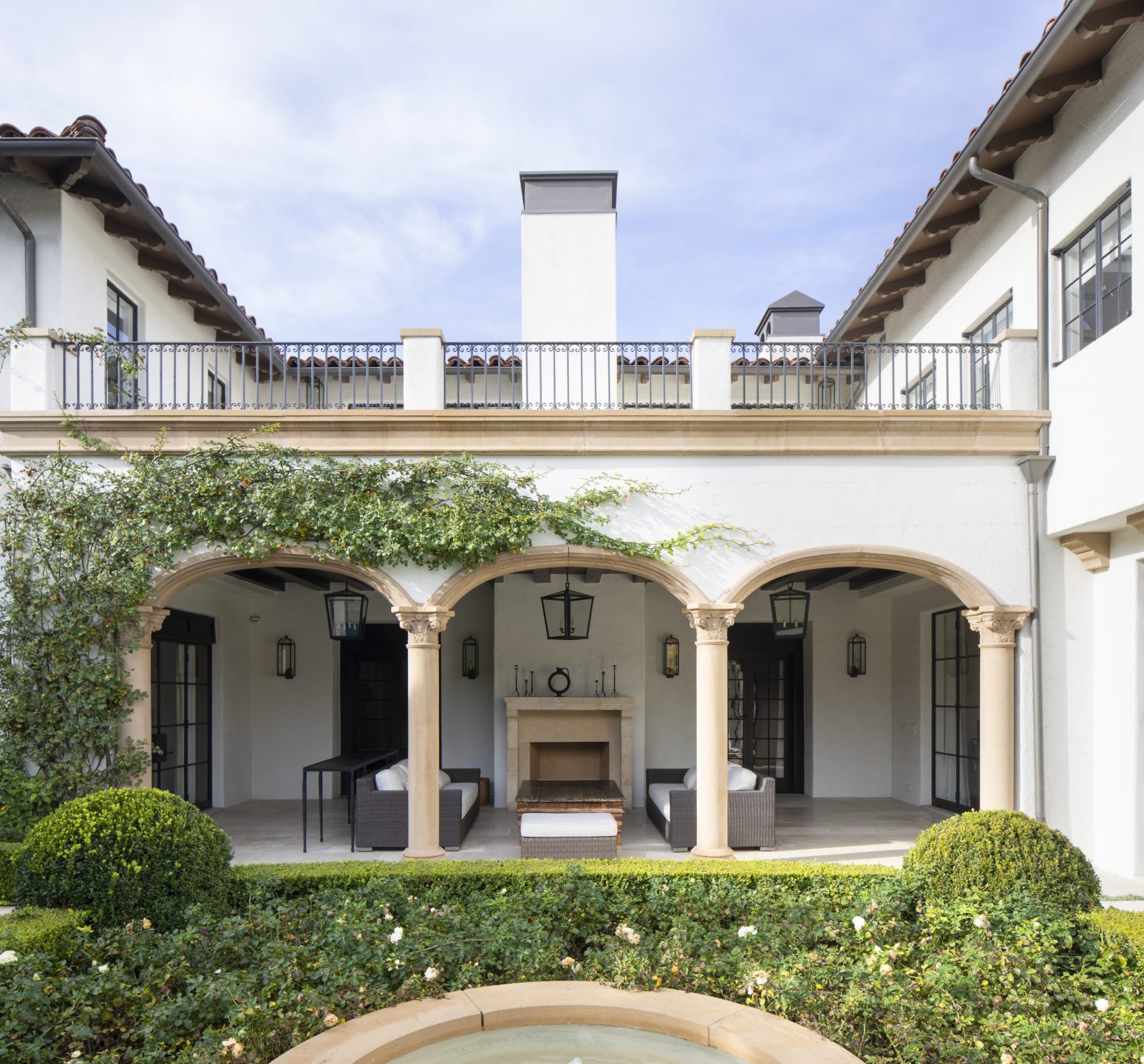 June Street
A grand old Italianate house in Hancock Park had fine bones, a romantic loggia, and remnants of very pretty architectural detailing, but it needed to be renovated and expanded to make a home for today. The typically sober, dark, smaller family rooms of the 1920s were enlarged and reconfigured, including the addition of a sizeable wing for a new great room, kitchen, and dining area. Two bedroom suites complete the wing on the second floor. The emphasis was on preserving the gentility of the existing architecture, restoring fine paneling, stenciled beams, and vaulted ceilings, and then repeating those components in the lighter language of the new spaces.

For the interior architecture, the goal was to expand the house seamlessly as a continuous renovation—to erase the line where the original space ends and the new spaces begin. The scale and detailing of the old rooms carry over to the added wing and establish the classic Anglo-Italian millwork language throughout the house. In a nod to tradition, cabinetry, beams, and paneling are kept in rich, dark wood finishes amid bright, lightened spaces. The restored box moulding in the library echoes in the new floor-to-ceiling hutch in the dining area off the kitchen. A white marble master bath and beamed, vaulted ceilings add to the sense of an antique house refreshed.

Remaking a more livable and active backyard was a priority of the restoration. The work centered on expanding the house's original but very shallow, undersized loggia, to give it useable proportions as a wide covered terrace for outdoor living. The original columns and arches were meticulously reproduced to lengthen the space, including intricate new tracery and carving. Hand-hewn beams create a vintage-feeling wooden ceiling, and an outdoor fireplace adds a focal point for seating. A new pool is reset on a central axis with the loggia, and beyond, a fountain surrounded by roses, creating a gracious view. Tall cypress trees and hedges reinforce the landscape sensibility of an Italian villa. A wisteria-covered pergola establishes a new outdoor dining space by the kitchen.