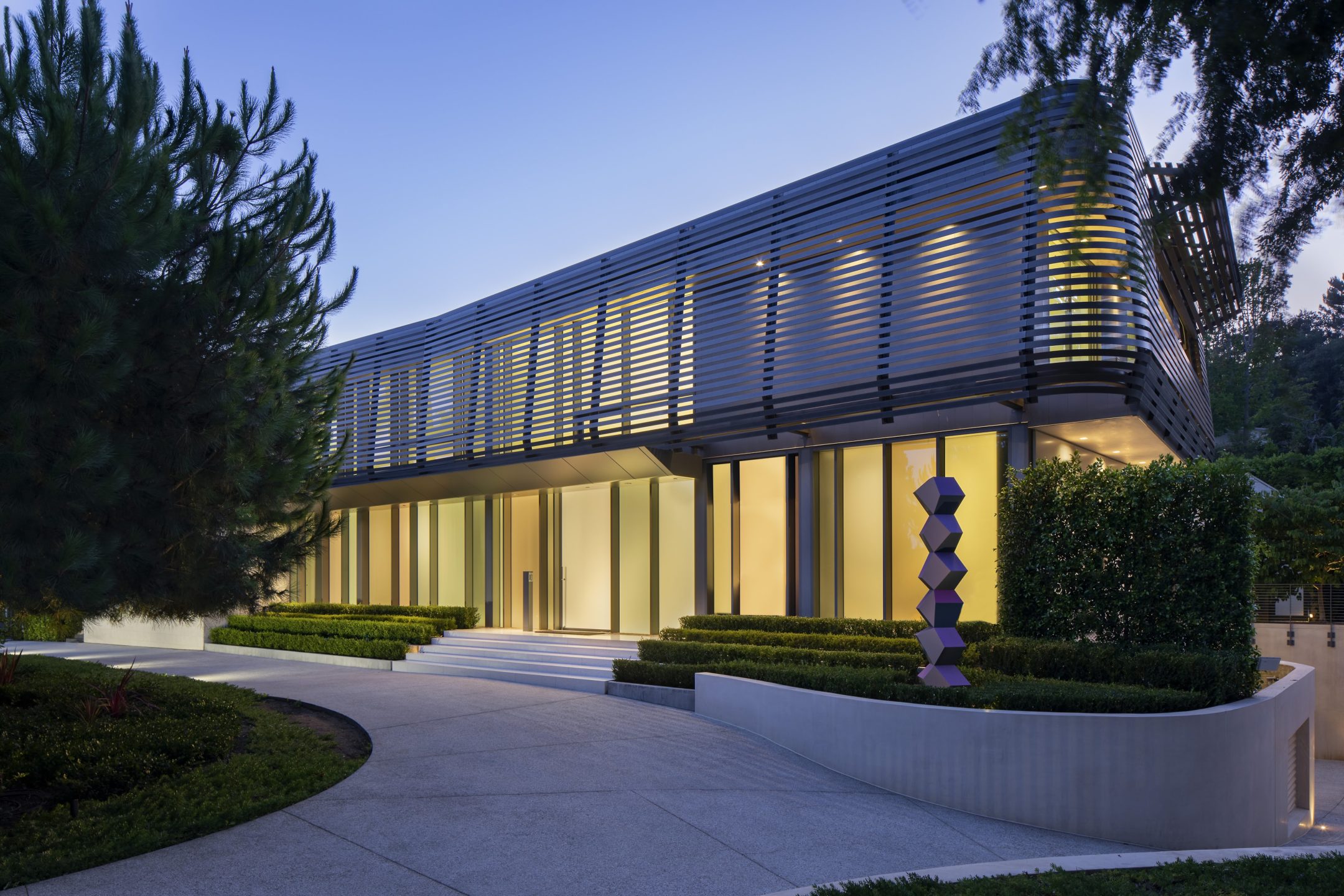 Beverly Hills
What began as a grand vacation villa for a family from overseas became a permanent residence and an opportunity to think outside of the box in a vanguard, international style. Approaching the design in the spirit of a boutique hotel, a series of public and private pavilions form a compound with generous room for entertaining, houseguests, and recreation. The site is oriented to the backyard and the sparkle of water, with an enormous pool at the center of the property. A glazed breezeway over an adjacent reflecting pool connects to a floating master suite. To solve for crucial privacy from the street side, the building is wrapped in a curving, horizontal, aluminum grillage that creates ribs of dappled light and shadow as the sun moves around the house.

The wish for the house was to be exuberant and cinematic, favoring glamour and shimmer over simpler California modernism. The opulence is lightened by the heroic scale of the spaces, while the interiors are allowed to be playful and fashionably European in soul. From the high, spiraling stair hall and its oculus skylight through the main public wing of the house, each room opens fully to the water and sky, with areas for lounging and gathering. Throughout, shades of pearly sunrise pink, lavender, and turquoise make a soft, dreamlike palette for the graphic modern furniture. Luxurious marble, terrazzo, and mirror are frequent material partners, used on a grand scale in an architectural Deco style.

In every way the centerpiece of family life is the monumental pool. It is both view and destination from each quadrant of the property, uniting the main house, the master suite pavilion, and the guest house with open patios and shaded lounges for entertaining around its perimeter. An additional track of the pool wraps the outdoor lounge on one side to create an extended lap lane for serious swimmers. Beautiful hexagonal glass tile was hand-patterned in aquatic gradations to amplify the movement and color of the water as it captures the sun throughout the day.