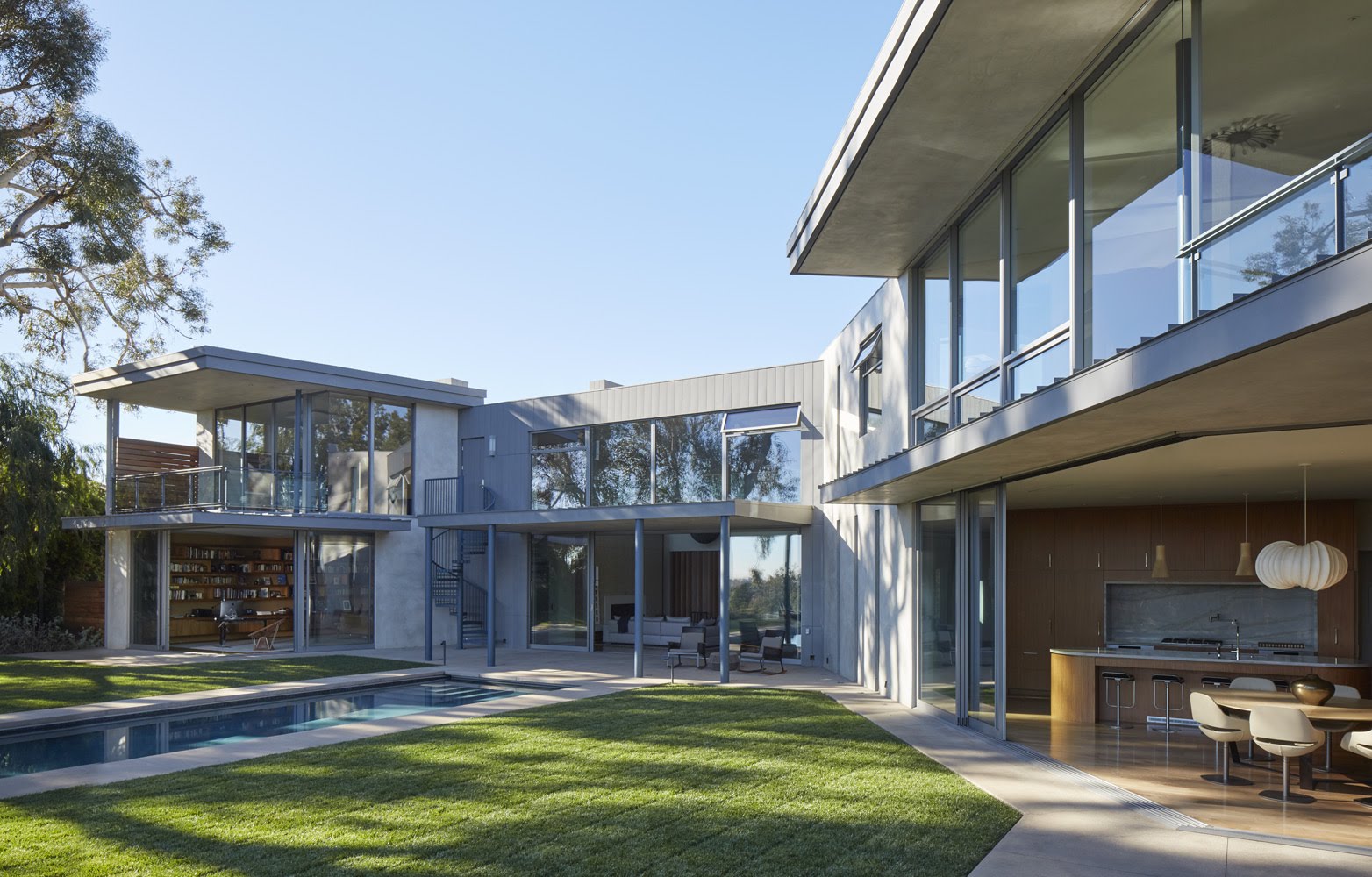 Chautauqua
A soaring house on a dramatic canyon hilltop spans two different ecologies—a wilderness preserve on one side, and the Los Angeles skyline on the other. This duality guided the design of a flared, U-shaped structure that is sequenced with daytime and nighttime arms to the plan. A sun-rich southern-facing wing overlooks the Santa Monica mountains and holds the client's daytime working spaces. A northern wing contains cooking, dining, and family space, with a master suite upstairs in the high position to see the twinkling lights of the city at night. In between, a double-height great room connects the two wings and serves as the center of the house for entertaining.

Wide open yet easy and comfortable, the interiors are grounded in exquisite woodwork to let the architecture feel like fine furniture, and vice versa. The atrium-like great room establishes the tone, functioning as a kind of living courtyard with a graphic staircase that links the two wings via a glass balcony. The many built-in elements and cabinet-like furniture made for the house are rooted in a Japanese sensibility—with its inset shelves, the staircase has the look of a giant step chest. Archival bookcases in the library create a stage for the owner's collections and interests. A quilted silk headboard and a fireplace wall clad in delicate gold leaf panels add to the house's material refinement. Finishes are masculine, warm, and natural, in a wooded palette that feels especially fitting to the canyon setting.

Much of the magic of this house comes from its remarkable location, with panoramic views from the city to the sea. The grounds wanted to take best advantage of the site, emphasizing a natural immersion in the dramatic topography of the surrounding canyon. A long lap pool flows like a river from the center pavilion of the house, extending to a waterfall edge that appears to drop over the canyon. Glass-walled lounge areas on either side of the water share the same transparency to the wild terrain. The lot is bordered by massive, very beautiful old eucalyptus trees, which help to soften the edge between home and nature. Lit up at night, they seem to watch over the property with an ancient glow.