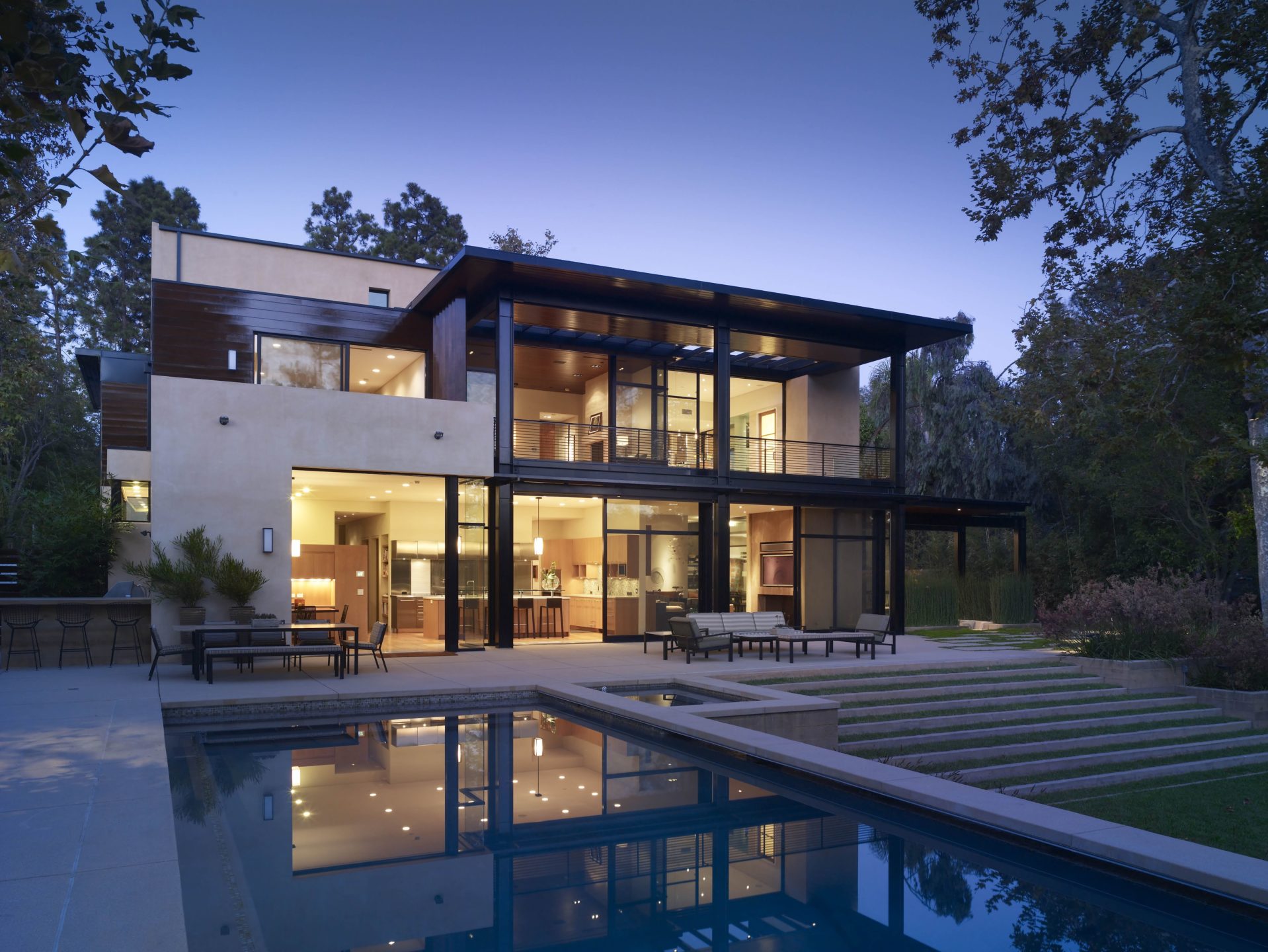 Brentwood
Giant rectilinear blocks organize the social character of a large modern house designed for entertaining. To help to make a sizeable home feel less massive, several hosting areas are cast as exterior rooms, with three linked outdoor spaces and a pool house. Glass walls retract along the cubist metal and concrete frame at the back of the house, letting the interiors open or close to each other and the outdoors at will. This interactivity creates larger or more intimate zones as desired. Plays of height in the segments of the building add to the mix of the intimate and the grand, the transparent and the solid.

Welcoming, grounded interiors bring warmth to a modernist house that could seem cold from the outside. Spaces are designed for comfort and ease in entertaining, accommodating large, extended gatherings as well as day-to-day family life. Outdoor materials assume a gentler character next to indoor ones, with exposed concrete walls married to enveloping, ceiling-to-floor walnut paneling, or, a sweep of organically patterned mosaic tile elaborating on all the structural glass in the kitchen. Handsome vintage pieces blend with custom furniture and lighting, all designed with a level of modernism that feels true to the house. Soft, casual fabrics and earth tones throughout add intimacy to the atmosphere.

Surrounding the house, three entertainment areas can join the interiors or remain discrete, fluidly changing as walls open or close to make interconnected indoor-outdoor experiences. A wide courtyard joins the living and dining rooms and features radiant heating under the pavers for continuing evenings outside. Another patio spans the exterior of the family room and kitchen and links to the pool. A sunken conversation pit with a fireplace extends around the side of the house and offers shade. Softening the entry to the yard, layers of turf are inserted into the low, wide steps to the garden and the pool house beyond.