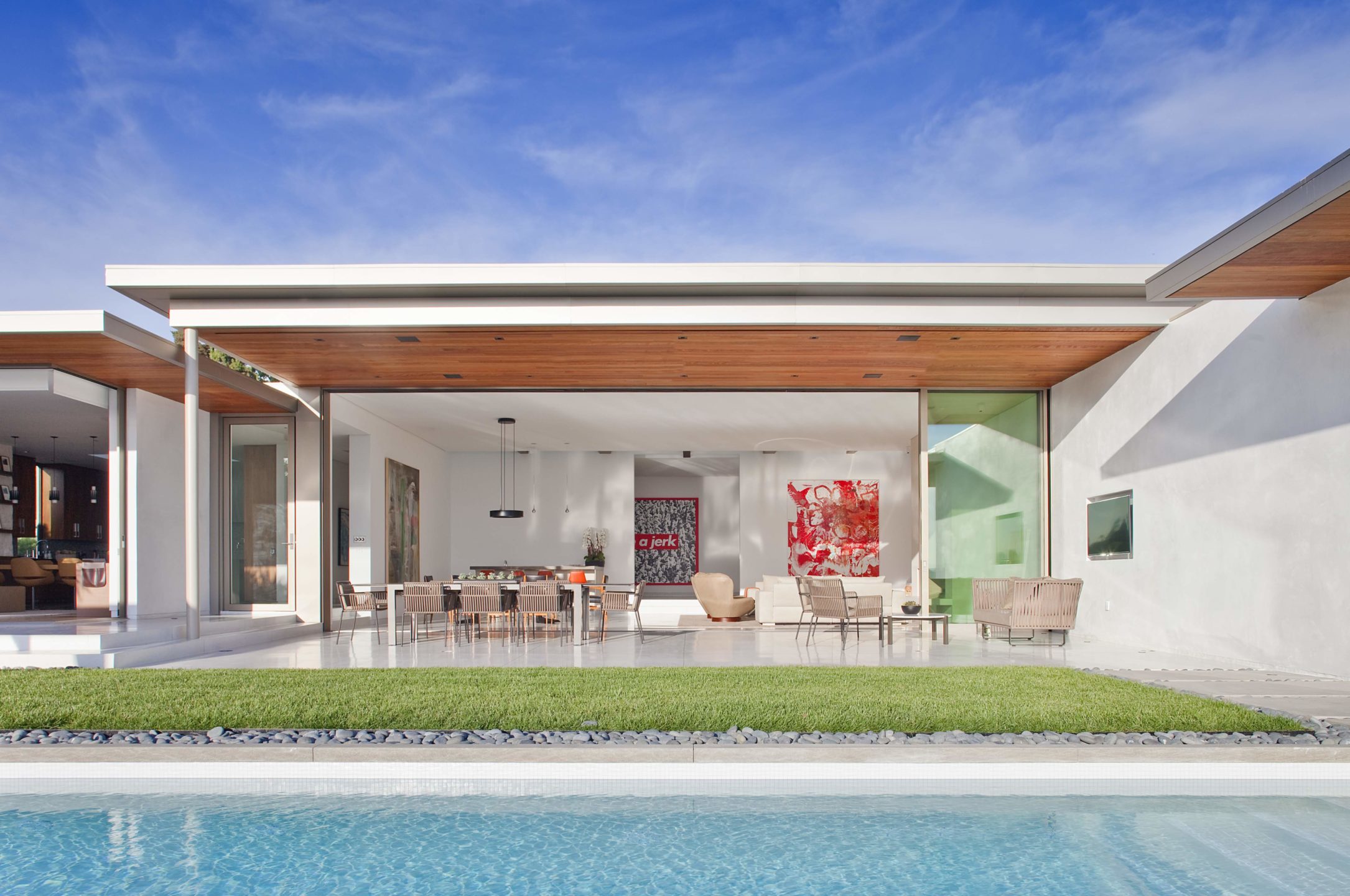 Trousdale
An affinity for California Case Study houses and the space requirements for a large art collection inspired the making of a midcentury-style home set high in the Hollywood Hills. The new house shares the clean, cantilevered lines, single story structure, and vintage elementality of the Case Study era, though its modernism is recast in more refined materials, and with taller, sun-filled, bolder spaces. The plan solves for ample entertaining with a chain of pavilion-like rooms that face the back of the house and perch dramatically over the hilltop. The spectacular views are brought even closer with retractable glass walls that fully open to the outdoors.

The house intentionally sees its furnishings as extensions of the architecture. Fine custom and midcentury Italian as well as built-in furniture share the same clarified detail and era with the building, punctuating the open spaces while directing focus to the views. Unembellished but luxurious finishes in warm walnut and rosewood, milk-white terrazzo, expansive limestone, and race car leather let most of the color in the rooms come from the art. A long, overscale entrance hall screens the front of the house for privacy and doubles as a main art gallery. In a special gesture, the master suite is set down a few steps, with a glass corner that opens directly to the pool—a world within the world of the house.

Like many modern hillside houses, the street façade provides a private and low-profile entrance around a vintage-style auto court. The back of the house is the focus of all the light and views, where the interior freely joins a monumental covered terrace and the pool yard. A stepped construction along the grade of the property creates several dynamic entry points to the infinity pool, from a pergola for lounging and sunsets, to the kitchen, great room, and bedroom pavilions. The gardens all around the house are planted with specimen succulents and native trees in a nod to the California desert terrain of the 1940s and 50s, when the first Case Study houses were built.