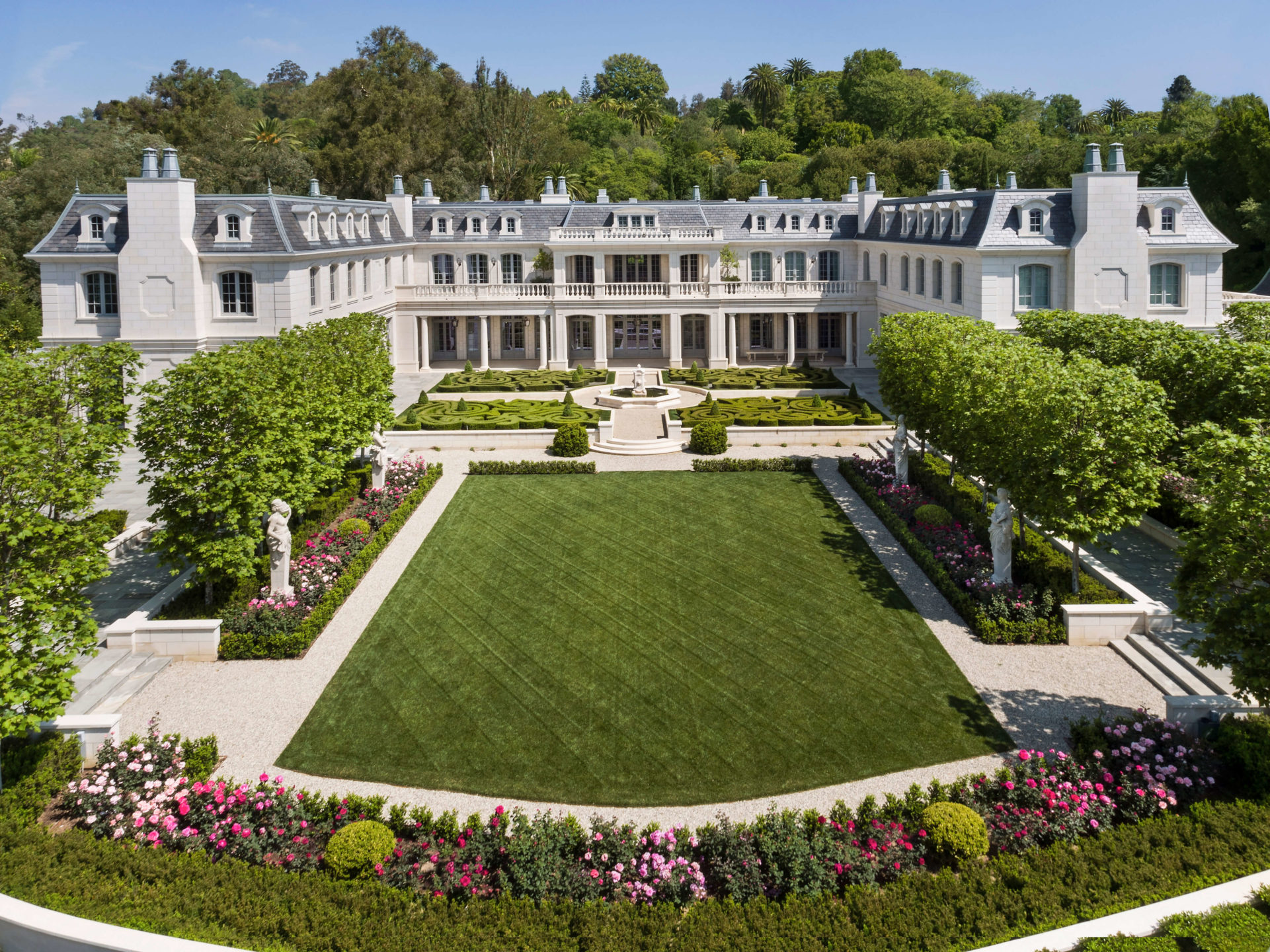 Chateau Des Fleurs
A new, grand estate nestled into a canyon in Bel Air merges French history with 21st century living. The opportunity to build a dream home in an authentic chateau style was the culmination of a decades-long collaboration with the clients through several prior houses. Following extensive research, the architecture of 17th century northern provincial chateaux was chosen for its relative simplicity, classical symmetry, and elegant sense of proportion. The resulting house is a quintessential French limestone manor of mirrored wings, balustrades, and rigorously ordered facades with graduated windows on each story. The formal plan inside is characterized by an elaborate double staircase, traditional enfilades, and a central hall with an axial view straight through the house to the gardens. Every latest technology and amenity is included and concealed within the infrastructure, yet the home remains of the hand, made with centuries-old, opulent craft traditions.

Maximal interior architecture and a lavish finish program are essential parts of the luxury of the house. Rooms were painstakingly crafted over years, creating a unique identity before the home was furnished. The intent is both personal and historical, offering each space a palette based on the tastes of the occupants, applied in a heightened language of traditional gilding, precious stonework, ornamental millwork, fine wrought iron, upholstered walls, and mural painting. Towering crystal chandeliers, collected French mantelpieces, checkerboard marble and parquet de Versailles floors set a tone of antique fantasy, especially in the double-height, cartouche-paneled and gilded ballroom wing, designed for large events. At the same time, vivid and varied room colorations let the house breathe as modern, revealing an underlying, adventurous California soul and an eternal Parisian influence.

The chateau is named for its gardens and the lady of the house's particular love of roses. As in classical French estates, the grounds form a powerful, sequenced view that is meant to extend the geometry of the house out into the landscape. Flowing from the back loggia, a parterre garden of Japanese boxwood creates a first stage around a hand-carved fountain. Beyond, a lawn watched over by allegorical statues is framed with heirloom roses and allées of sycamore trees; the flowers are planted in tonal shades from pale pink to deep red to streamline the color level in the gardens. A huge, picturesque swimming pool and attendant outdoor dining areas flank the side of the house by the kitchen. The pool itself contains a formal fountain and is positioned to mirror the house in the water, in the style of a large reflecting pool on an estate park.