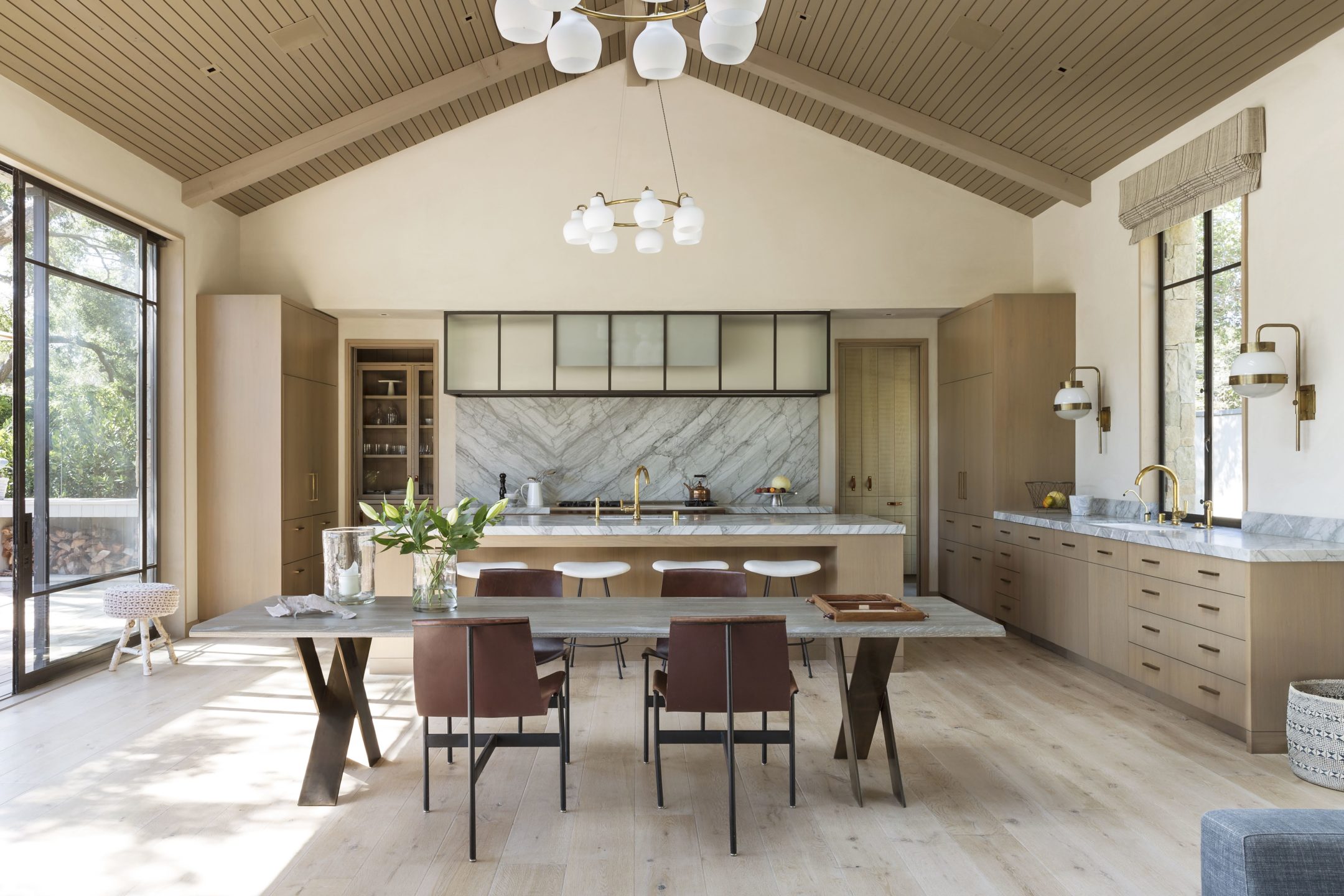 Romero Canyon
William's canyon home in Montecito began as a personal experiment in ideas for modern family living. The plan takes the form of a compound, deconstructing a multi-story family house into a set of easy, linked wood and stone wings. Outbuildings for activities and guests complete a quadrangle around large, central spaces for sharing time outside. The L-shaped arms of the main house as well as gym and guest houses overlook the pool and gardens, and beyond, sweeping views of the mountains. High glass walls slide open onto wide decks, erasing the lines between indoors and outdoors. In a refined lodge vernacular, the construction echoes the natural landscape and is intensely local—all the golden Santa Barbara sandstone that clads the house was discovered during the excavation of the property.

Family life centers around the great room wing, integrating the main living and dining areas with a lofty open kitchen, and adding an all-purpose game room next door. Soaring glass doors retract fully, opening to the deck for year-round outdoor living. The house is envisioned for both vacations and long residencies, with a balance of rustic lodge and elegant modern details through the interiors. Beamed cathedral ceilings, stained cedar plank millwork, figured marble and limestone, and a bouldered stone fireplace form a backdrop for collected vintage modern furniture and lighting, custom pieces, and a throughline of midcentury Italian elements. The same set of warm, neutral materials is used across the complex, applied with refined craftsmanship to let spaces feel natural, effortless, and luxurious.

All the buildings in the compound sit at the edges of the property, allowing the house to gain the greatest amount of outdoor living space in the middle. Each structure was carefully sited in relation to a number of extraordinary 250 year-old California live oaks on the grounds, which frame the views. The resulting loose quadrangle accommodates the central pool, a lawn, and stepped gardens, with panoramic vistas of the Santa Ynez mountains. Dozens of non-indigenous trees were removed during the excavation, to return the landscape to its original habitat. Native plants and open stonework step in to reinforce the natural, untamed character of the gardens. The low, quiet profile of the buildings lets the architecture merge organically into the surrounding terrain.